GUIDE TO WINE TASTING IN COLORADO FROM KEYSTONE FESTIVALS
Considering we run a wine festival every year in Colorado, we thought it would be fitting to bring you a guide to wine tasting in Colorado!
At Keystone Festivals, we work to bring you the best festivals in the Rocky Mountains, from wine and jazz to bluegrass and beer, there is a lot to do and consume at our festivals. This guide is here to provide tons of information on Colorado Wineries and to point out fun and delicious wine tasting options throughout the state.
Facts about the Colorado Wine Industry:
The annual economic impact of Colorado's wine industry is over $300 million which is quite substantial for a state mostly known for its craft beer.

There are over 150 Winery licenses in Colorado, meaning there are many different wineries and wines to try! 

Colorado grapes vary, but as of 2017, the various production consisted of around 15%

Cabernet Sauvignon, 13% Merlot, 9% Riesling, 9% Cabernet Franc. With subsequent numbers of syrah, chardonnay, viognier, Gewürztraminer, pinot gris and pinot noir.

1890 marked the beginning of Colorado wine production by Colorado Governor George A. Crawford, who planted 60 acres of fruit and wine grapes near Palisade, a small town located on the fertile western slope of the state. 
To truly learn about Wine Tasting in Colorado, first, we need to learn about where Colorado's wine regions are, and then we will move on to where we can taste the best wine in the state! 
Colorado Wine Regions:
Colorado is divided into two main American Viticultural Areas (AVA).
Okay, so what is an AVA? An AVA is a "designated wine grape-growing region in the United States that is distinguishable by its geography" according to Gold Medal Wine Club. Since wines from different regions can possess different characteristics, this allows us to know more about the geographic pedigree of the wines we are drinking.
The two AVA's in Colorado are the Grand Valley AVA and the West Elks AVA. Grand Valley AVA is east of Grand Junction as the Rockies end, think Palisade and Fruita, Colorado. At the same time, the West Elks AVA is higher up in elevation closer to Paonia and Hotchkiss, Colorado. Grand Valley AVA produces 80% of wine grapes in Colorado that are cultivated statewide.
Not surprisingly, these AVA's are the two highest AVA's in North America, with a shorter growing season and a desert-like climate. 
Just 4 hours from Denver to Palisade or Paonia, these AVA's are an incredible weekend drive away and also provide stunning views through Colorado's variable climate and geography.
It's worth noting that there are wineries along the Front Range, in Durango, near Salida, and closer to metropolitan areas in Denver as well. 
Colorado Wine Tasting Throughout The State:
Now, what you've been waiting for! Here are some of our favorite places to taste wine all over Colorado. Each winery offers something different and provides delicious wines that you won't soon forget.
Infinite Monkey Theorem
A fan favorite located in the heart of RiNo in Downtown Denver is Infinite Monkey Theorem. One of the urban wineries we discussed, Infinite Monkey Theorem has a fantastic tasting room and produces excellent wines. They make their wine on-site but source their grapes from the Grand Valley AVA on the western slope of Colorado and high plains of Texas. 
They offer a 60-minute winery tour with five free tastings of their tasty wine for just $25 a person. A private option boasts six free tastings for $35 a person. They also offer canned wine to-go as an option for Colorado camping trips or outdoor adventures.
Sutcliffe Vineyards
Since 1997, Sutcliffe Vineyards has been producing phenomenal wine in a remote region of Colorado. Best done on a road trip to Colorado favorite Durango or to explore the 4 Corners, this winery is a must-stop for anyone in the Southwestern part of Colorado.
Sutcliffe wines mirror the beauty of their landscape and are well-known all over the world. It may be a bit of a trek, but between the view and the wine, it's worth it! The tasting includes four samples for just $10. If you can't make the drive, check out their near you list for options to purchase at your local wine store. 
Carlson Vineyards
Known best for their Rieslings, Carlson Vineyards is one of Palisade's many incredible wineries. Since the Carlson's planted their first vines in 1981, they've created easy-drinking Colorado regional wines that have won many awards.
Visiting Palisade for wine tasting is a must, and Carlson Vineyards should be your first stop. They also offer plum wine and other fun varietals to shake up your wine tasting experience!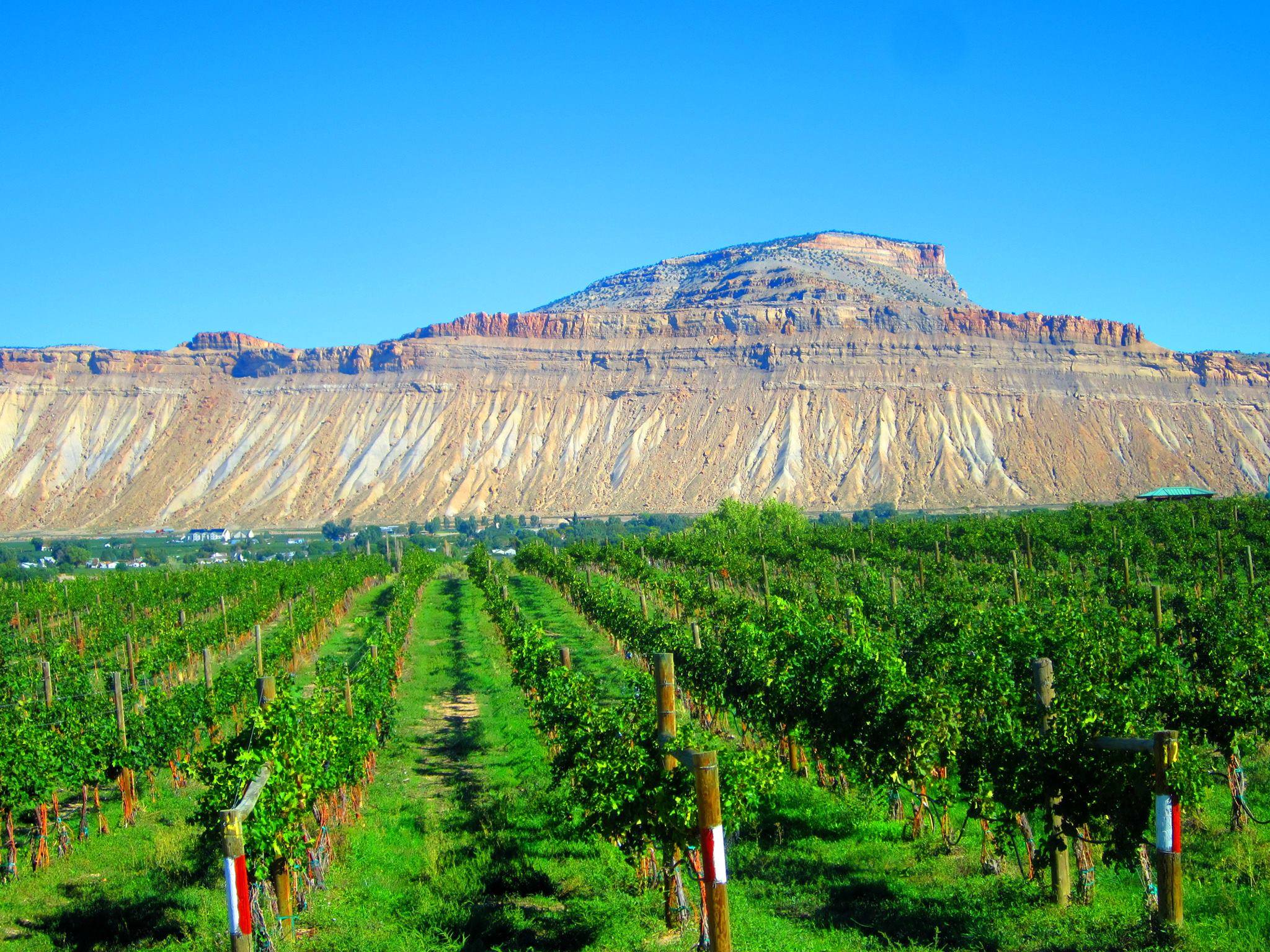 Red Fox Cellars
Red Fox Cellars is another Palisade winery that offers unique fruit wines and ciders from their 8-tap draft system. Their fun labels and tasting room make this experience more than the typical laid back wine tasting you're thinking of. Red Fox is open daily and creates all of its wines on-site. Don't forget to ask about their wine cocktails to spice up your wine tasting weekend! 
Carboy Winery
With Breckenridge, Denver, and Littleton, CO locations, Carboy is an essential stop on your Colorado winery tour! They serve pretty unique wine varietals and you can drink wine on tap at any of their locations. Carboy's grapes, juice, and already-fermented wine are sourced from around the world. Carboy bottles and blends (or ages) the products at each of their locations to create unforgettable wine that is all theirs.
When visiting Carboy, we are partial to the Breckenridge shop, located right on main street Breck in the heart of the town. There you can taste three wines for just $10 plus have a delicious cheese board to go with it.
If none of these wineries strike your fancy, here's a great article from Tasting Table with a few other options for Colorado wine tasting.
—-
Now that you know all there is to know about Colorado wine, what winery will you be trying next? Colorado's premier wine festival, Keystone Wine and Jazz, offers wines from all over the world, including Colorado wine options. Check out our other summer festivals to explore more and more of Colorado and have fun while doing it!